Review: Progeny Press E-Guides
June 16, 2016
My first time in New York City, I was almost hit by a taxicab (on the sidewalk), I learned that going 1 block too far can make a BIG difference, and I saw The Scarlet Pimpernel on Broadway. When I was offered one of Progeny Press' e-guides I knew instantly that I wanted to share the Scarlet Pimpernel E-Guide with my children (and yes, some of that was so I could tell them the story of my first time in NYC).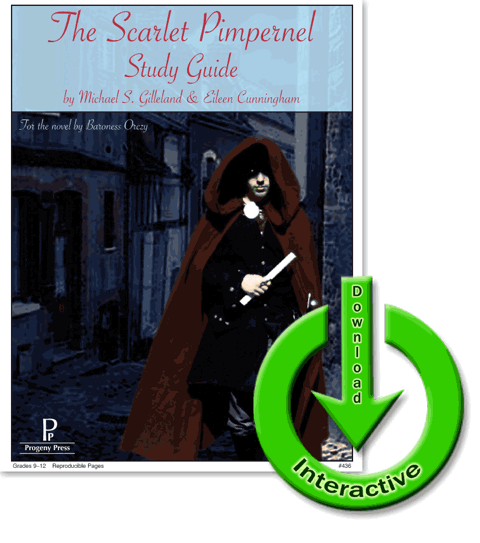 Progeny Press E-Guides are written to supplement and enhance your reading of great literature. The guides can either be printed so that your child/student can write the answers in it, or it can be saved to the computer for them to type and save their work. Here at Casa di Kotlus, children avoid handwriting like the plague, so they very much appreciate a typing option anytime it can be offered. The price of the E-Guide (Scarlet Pimpernel was $21.99) does not include the actual book, but we were easily able to get a copy from the library, although Progeny Press also has books for sale, if you'd rather own than "rent".
The basic plot is this: The Scarlet Pimpernel is a particular type of English flower that is used as a symbol for an Englishman who saves French people from a horrible death at the hands of the guillotine during the reign of terror. While most people throughout Europe just watch in horror as thousands are condemned to death without a trial, Sir Percy Blakeney, who is married to a Frenchwoman, and his friends decide to intervene. Obviously this infuriates the French government, and a complicated series of deceptions and investigations takes place to see if Chauvelin (the man tasked with finding the Pimpernel) or the Pimpernel and his men with triumph.
The Scarlet Pimpernel is a fantastic book (or movie, or play) and there is lots of action and intrigue. I read it with my 12 year old, although the book and e-guide are suggested for grades 9-12 and he liked it.
As for the E-Guide, you should know that Progeny Press offers a Christian perspective on the books they feature, so if that's not for you, heads up. However, Progeny's E-Guide is very well done and includes lots of additional information to enhance your reading of the book. This includes an author biography, historical background on the time period, and pre-reading activities.
Once you have enjoyed all of the background information provided with the E-Guide, you move into student sections, each covering 4-5 chapters of the book. These student sections include things like vocabulary, reading comprehension questions, character analysis, and "digging deeper" analysis questions. The E-Guide also includes ideas for essays and projects, should you want to add those to your reading of the book.
Because we're on our summer schedule, Riley (my 12 year old) didn't do the activities every day, rather, he'd finish reading whatever chapters were part of the section he was working on, and then he'd go back and answer the questions. We just downloaded the guide to his computer and allowed him to type the answers- his preference. I really feel like the E-Guide helped him to better appreciate the book and to truly grasp the significance of the events that took place in this historical fiction.
Whether you're looking for elementary, middle, or high school reading supplementation, we highly recommend the E-Guides from Progeny Press.
Facebook: facebook.com/progenypress
Twitter: twitter.com/progenypress @progenypress