Review: Poetry Memorization from IEW
May 18, 2016
I love Institute for Excellence in Writing products. In fact, some of you know that my middle schooler has done some writing for a local new publication, and I credit all of that to IEW and their method for teaching writing. I was more than happy to try Institute for Excellence in Writing's Linguistic Development Through Poetry Memorization Teachers Manual and Student Notebook. This course is $65 and comes with a spiral bound book of poems and CDs to help you help your student become and excellent communicator, enrich their vocabulary, and help them learn complex and beautiful organization of the English language by cementing it into their minds through poetry!You can also opt to order the Student Book, which we received with our review materials.

The curriculum comes with 96 poems and speeches which are read on CD. I really appreciate any curriculum that comes on CD because in our model of homeschooling I do an insane amount of reading and tire of the sound of my own voice. There are also memory charts, poet biographies, and a CD from Andrew Pudewa's "Nuturing Competent Communicators." I'm a fan of Andrew in his elephant tie from teaching writing structure and style, but this was fantastic information, as well. This talk really helps you to understand why memorization is vital to your child's success as a communicator, and as a student in general.
In this program you learn that memorization helps students become better writers and communicators because it gives them something to pull from, just like learning vocabulary and spelling words, memorization of great speech, literature, and poetry gives them a background knowledge base to pull their words and structure from. There are five units of memorization, the first four are all poems which become increasingly more difficult and the last contains speeches. As your children master the progression they move to the next level, and all students are recommended to begin at level one.
We started in level one, and the kids spent about 8-10 minutes a day working on the poetry without me using the CD. They practiced the poem alone until they felt ready to recite it to me. On the first poem this got complicated since with my 6th, 4th, and 2nd grader, everyone felt ready to recite and move on at a different pace so they couldn't work together the way I'd planned, but it still worked very independently for us, they just needed to take turns with the CD. Once a student masters a poem, they move on to the next one, but continue to practice the poems they've already learned. At the end of level one, they should be able to recite all of the poems from that level. The book includes a chart for you to track when you recited your learned poems.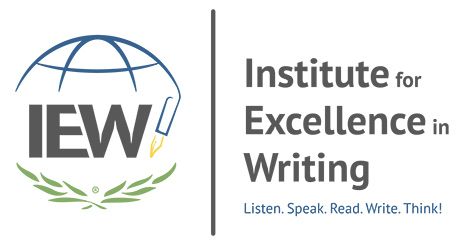 I have enjoyed this program and plan on setting it to the side for summer and then using it as a morning activity next year throughout the school year. It's a quick "wake up your brain" for us, and I love that it supplements our writing activities. If you're a teacher (home or school) I really highly recommend all of IEWs programs and approaches. You can check them out here:
Facebook: https://www.facebook.com/excellenceinwriting
Twitter: https://twitter.com/iew @IEW
Pinterest: https://www.pinterest.com/iewriting
YouTube: https://www.youtube.com/user/iewtv
And if you'd like to see what other crew members thought about this particular curriculum, you can read more about it by using the link below.