Review: Beric the Briton
July 21, 2016
You guys have read on Facebook about my deep and abiding love for audio books, and Heirloom Audio Productions does fantastic radio drama adaptations of the G.A.Henty books with Beric the Briton.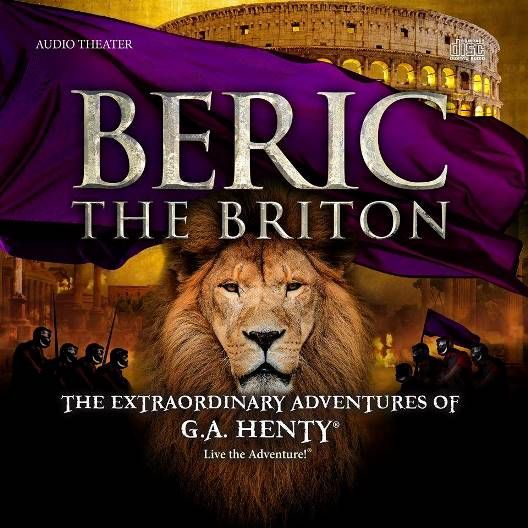 We received a hard copy of Beric the Briton (CD set) as well as access to several bonus materials including a study guide with comprehension questions, vocabulary, and thinking further sections (note: just the questions, not the answers, so you'll want to listen along, too), an inspirational poster from Julian (a character in the story), e-book, promotional poster, and more.
What you're probably wondering is just what exactly a "radio drama" is. I grew up listening to these every weeknight on Christian Radio, so the format was familiar to me- but if you're not used to it, think of it like a play with no video. There are sound effects, background music, and numerous actors voicing the characters, unlike an audio book which is just someone reading dramatically. It's a very engaging format. This book is a combination of historical fact and engaging fiction, and it ends up being about the treatment of early Christians in Rome. Yay Gladiators and lions in the arena!
Now, on to the real experts, my kiddos 🙂 Caution, you may find some of these points to be spoiler alerts.
Riley (Age 12)- I thought it was a fun book. I liked the historical aspects entwined with the fictional story. I liked that the story was about early followers of Jesus. For younger kids, this might be a little scary because it has a lot of death, battle scenes, and lions who eat Christians. The gore isn't really described, but I didn't think it was scary at all. My favorite part was when they killed everyone in the one town early in the book during the uprising. It was very action-packed.
Logan (Age 10)- I felt that it's for more mature ages, like 9 and up, because it could get gruesome at times with things like wars and a bit of torture, gladiators, and stuff like that. There were wolf hunts, too. But I thought that the narrating was great- they got multiple people to be in it so each character had a different voice and I thought that was really cool. My favorite part was probably when the people talked about Jesus because they had to do it in secret, and they still did it anyway.
Savannah (Age 8)- I thought it was really good. I liked that it was good for you about Jesus, but it also had history in it. It was a little scary, though. The sound effects were really good. My favorite character was Beric because he was really brave even when his mom died in the battle with the queen, he still had to be brave and lead his people.

You can find more information about Heirloom Audio Productions, G.A. Henty series, and Beric the Briton on social media:
The Extraordinary Adventures of G.A. Henty series FB page
Twitter: https://twitter.com/HeirloomStories
Google+: https://plus.google.com/b/114534826166314080647/114534826166314080647
Instagram: @HeirloomAudioOfficial